Today, popular gaming streamer and YouTuber Ali "SypherPK" Hassan has announced the opening of a dedicated Fortnite Creative mapmaking division in Oni Studios, the content creation studio and consultancy he founded in January. The new venture aims to lower the barrier of entry for brands interested in the metaverse by bringing together the production and distribution sides of this nascent marketing channel.
Oni Studios' Fortnite mapmaking team is currently composed of three full-time employees, with plans to expand to 15 and recruit a wider network of contractors by the end of 2022. The new division has been in development for about a year. Until now, the company has largely acted as an incubator and consultancy for up-and-coming streamers and video creators, but brand deals have become an increasing significant element of the company's business — Oni signs around 10 brand deals every month, according to Oni Studios CEO Daniela Ali — and its services have expanded accordingly into brand consulting and the growing metaverse marketing space.
"Launching a dedicated mapmaking team is simply our response to very real demand," Hassan said. "I've worked on more than a half a dozen custom maps, and while my contribution to the design and mechanical play of each experience was significant, there's nothing like digging in with your own team and developing the perfect map." Oni Studios has only employed full-time Fortnite mapmakers for two months, so it has not yet developed a branded experience from start to finish, though Hassan has both provided mechanical building expertise and assisted in promotion for activations such as Honda's Hondaverse in the past.
Although these are still the early days of metaverse marketing, Hassan's studio is the latest of a slew of dedicated Fortnite development firms that have formed to meet brands' needs. Over the past year, prominent non-gaming-endemic brands such as Gillette, Coca-Cola and Grubhub have joined the feeding frenzy, releasing their own branded Fortnite worlds. "I don't think it's just a fad; I think the Fortnite metaverse, for lack of a better word, is definitely here to stay," said Michael Herriger, CEO of the independent Fortnite studio Atlas Creative. "We get brands coming to us all the time that are interested in creating spaces, and it's going toward a trend of brands not just wanting a one-and-done game mode, but wanting to really own a spot in the virtual space of Fortnite and have these long-stay experiences."
What sets Hassan's studio apart from the competition is its ability to seamlessly disseminate the worlds it builds. When it comes to virtual brand activations inside platforms such as Fortnite and Roblox, the rules are a bit different than those of traditional media. A brand can't just throw content onto a platform and watch the views tick up; genuine engagement and participation in three-dimensional branded worlds are necessary for them to be a worthwhile expense. Hassan's position as a well-known Fortnite creator allows him to share his company's activations on his Twitch stream and social feeds, a strategy he used to promote the recent Hondaverse activation.
"That's the draw for Oni Studios' mapmaking team — the fact that we have both the influencer and the service suite to develop those creative experiences," said Ali, who is married to Hassan and a prominent influencer in her own right. "We find it's really valuable when the brands, the influencers and the service providers are all aligned with their vision and goals, and that's what this whole model facilitates."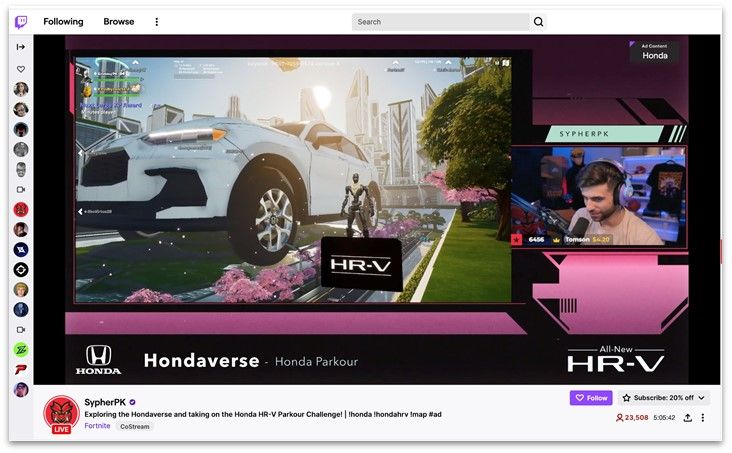 The presence of a prominent Fortnite influencer is also a potential draw for the skilled mapmakers that Oni Studios has hired and hopes to hire for its new division. The Fortnite Creative landscape is full of freelance creators, who have more freedom in their choice of projects — and the potential of higher pay — than creators under the Oni Studios banner. But working with Oni Studios gives creators the opportunity to share their work with Hassan's millions of fans, in addition to the benefits and more consistent pay. "When I was introduced to Oni Studios and the amazing people that work there, the opportunities and goals they had set aligned perfectly with mine," said Jordan "eatyoushay" Frenkel, one of Oni's full-time Fortnite developers.
Although Hassan contributed mechanical building advice for the Hondaverse activation, the bulk of actual development for that experience was done by the independent Fortnite studio BeyondCreative. Still, Honda's use of Hassan's strong following to promote the activation — the distribution end of metaverse marketing — demonstrated the strength of Oni Studios' combined model. "SypherPK has a large fanbase within Fortnite," said American Honda media department head Phil Hruska, "so he was a natural fit to build the Hondaverse within the Fortnite Creative map mode while utilizing high-quality visuals and the ability to build a detailed replica of the all-new Honda HR-V."
The company's Fortnite division is not exclusively dedicated to this type of experience. It will also be employed in the creation of exclusive experiences for Hassan's community, as well as training creators in Oni Studios' incubator class. But with the volume of brands champing at the bit to stake a claim to the metaverse continuing to rise, partnerships remain Oni Studios' top priority.
"It's no surprise I'm super passionate about Fortnite, and a big believer in the capabilities of the Unreal Engine," Hassan said. "It elevates their creative mode light years ahead of other platforms, and allows us to design much more mature, immersive and engaging experiences."