This post is part of a series sponsored by AgentSync.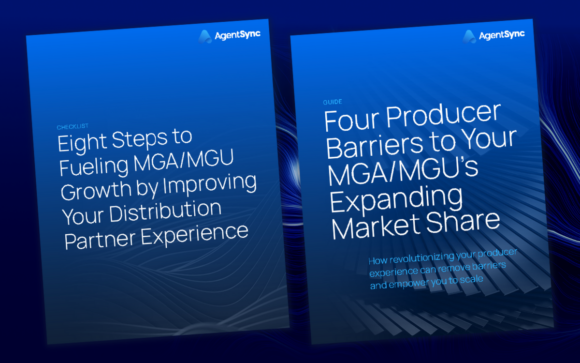 For MGAs and MGUs looking to own the future of their distribution channels, having a reputational advantage with downstream agencies and maintaining a stellar producer experience is mission critical. To help, AgentSync has released a report, Four Producer Barriers to Your MGA's Expanding Market Share.
Insurance has long been dominated by producer-led sales, a trend that's likely to continue for the foreseeable future. Yet, managing general agencies and managing general underwriters often sit in the middle of a distribution channel, parked between carriers and smaller agencies and producers.
These MGAs and MGUs face unique challenges in breaking through the industry noise to prove their worth to players on both the upstream and downstream sides of the sales pipeline.
For a quick look into how to turn compliance into your biggest producer experience superpower, download our checklist, Eight Steps to Fueling MGA Growth by Improving Your Distribution Partner Experience.
MGA challenges to a good producer experience
Carriers enlist MGAs in part because of the access they provide to distribution channels flush with producers. After all, even with direct-to-consumer sales tools in abundance, 75 percent or more of all insurance sales are still led by human agents.
However, with an industry that isn't bringing in enough talent to close the gap on attrition from insurance retirees, traditional funnels from agencies and wholesalers downstream are about to get more competitive.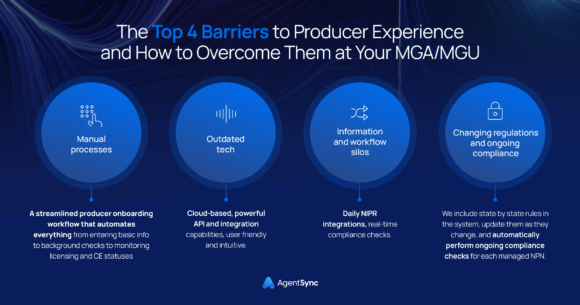 These trends are exacerbated by disparate expectations between what younger, digitally savvy producers want and need from their producer experience versus the manual, tedious compliance processes that have long plagued the industry.
Another challenge specific to MGAs is that they may have a broad variety of compliance duties encompassing those both traditionally assigned to carriers and agencies. Some MGAs merely operate as a middle agent, with hands-off duties that are more or less limited to basic due diligence, anti-fraud, and data validation measures. Other MGAs and MGUs take on duties like appointments on behalf of their carriers, or they license an internal producer force. These disparate standards add a layer of complication to any MGA making a play for prospective downstream partners.
Opportunities for MGAs that establish solid producer relationships
Four Producer Barriers to Your MGA's Expanding Market Share outlines the top three challenges facing MGAs as they pursue insurance producer relationships, and then provides a roadmap for how modern insurance infrastructure including technology solutions and processes can overcome and even re-align these barriers.
The insurance distribution channel comprises wholesalers, agencies, and producers whose most lasting impression of an MGA may well come from its onboarding or compliance process. So it is worth an investment to avoid a "process" that's actually a string of emails and phone calls, missed sync-ups, and messages that begin with "I'm sorry but we haven't yet received…" By carefully selecting the right modern insurance agent onboarding software, MGAs can create a frictionless and producer-friendly experience.
Instead of taking on risk, MGAs can position their compliance duties as a growth prospect by using producer onboarding management software, in turn impressing producers and upstream carriers alike. Ultimately, as the guide will show, these modern producer compliance tools will reduce churn, and make it easier to recruit and retain talented financial professionals in an era where they are scarce.
To learn how MGAs across the industry are smashing their barriers to acquiring a producer-friendly reputation in compliance, download your copy of Four Producer Barriers to Your MGA's Expanding Market Share. To address your own barriers during the producer compliance process from onboarding to termination, Eight Steps to Fueling MGA Growth by Improving Your Distribution Partner Experience.
Topics
Insurance Wholesale
Interested in Insurance Wholesale?
Get automatic alerts for this topic.